This section doesn't currently include any content. Add content to this section using the sidebar.
Matthew 5:16
"In the same way, let your light shine before others, that they may see your good deeds and glorify your Father in Heaven."
My prayer is that my life would be a living testimony of God's incredible faithfulness, His unending, pursuing love, and His grace that is sufficient for all. I hope it is an encouragement to others to remember that they are never too far gone for God to use them, and the gifts inside them are meant for others. Whatever it is God has given you, give it all back to Him as an act of worship, and just watch what He can do with it! May God bless you and keep you always.
Read My Story HERE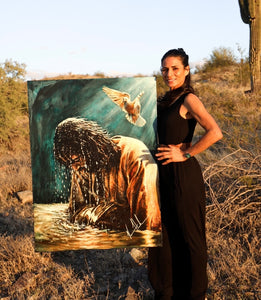 Artwork
Originals & Prints
My heart is to create art pieces that touch the heart of God, & that inspire other christians to keep their eyes on Jesus and to not lose hope. It is about offering powerful & meaningful art that speak of the truth of who He is and what He did for us. I hope these pieces do just that.
Feedback & Reviews
From the Community
"We bought the Lion and Lamb painting for Christmas. It is a blessing and touches our hearts to watch you worship the Lord and create His visions. Wow! So powerful. The other night we were showing our daughter some of your videos. She just turned 5. I showed her Heavens Embrace and this face of Jesus. She was quiet and was drawing at her table. She goes, "It's not my best but I wanted to try to create what Vanessa made." This is Oaklyn's version- Jesus with thorns, His Blood shed, tears, and carrying the cross (which also looks like a sword.) We just wanted to share with you how you inspired our daughter. God is good! We ordered more of your paintings and can't wait to get them. Thank you, Vanessa! We love you, sister! Blessings ❤️🙌🏻🙏🏻"
Ann
"Thank you for accommodating me by shipping quickly so I could receive the beautiful "My Sheep Hear My Voice" to give as a gift. When I saw this painting, I was very moved - and my mind and heart went to a song my Minister of Music has sung numerous times - "Were It Not For Grace". Well, this Minister of Music is retiring after 34 years. I play the pipe organ and have worked with him 24 of those years. I really wanted to give this to him since I drew a connection between the painting and that song in my heart. Thank you for the extra effort to get the piece shipped to me in time, and most of all for the beautiful work you do, and for using your gift for the Lord. "
Sherril D.
"Just wanted to say you're a huge inspiration to me! I used to paint a dark art but I've recently started trying to have a closer relationship with God and ever since then I've been more motivated to paint spiritual painting instead. Came across you on TikTok and I hope to be as good as you one day! See your paintings has really made a difference in my art!"
Justin. B.
"I have found you on Tik Tok and now on IG. You have such a gift and are using it to the Glory of God. I am so impressed with you. My dad passed away 5 years ago of a rare cancer at a young age and was bed bound without the use of his hands for over a year. I remember him saying "I didn't know what my purpose in life was but now I know what I can do. I can still pray." And that's what he spent his days doing. His faith was always unwavering. I asked him if he was scared to die and he said no. He said "why would I be? I know where I'm going and I will finally get to meet my best friend (Jesus)." I wish he was still alive so I could share your videos with him-he would love them. He now sends me butterflies when I'm really missing him and needing his guidance. I know I'll see him again some day. It gives me comfort that when my brother passed earlier this year that he was there with Jesus to meet him. Thank you for what you do. It really touches people in their heart. You are a gem!"
Annoymous
"Hi Vanessa! First I have to say you are such a talented artist!! I absolutely love your work. It's incredibly inspiring. The Art of Surrender painting you did is helping my mom through a truly soul stripping experience. "The worst storm of her life." She ended up being detained at a correctional facility for 2 years. She was trying to provide a better life than she had for my sister. Although she is in the lowest place of her life, she is still such an amazing soul. And I truly believe she where she is meant to be. She has been through many awful life experiences and yet remains strong and positive. Even though I know she's struggling. She is now leading the church services at her facility and working on starting a non profit for kids who need guidance or someone to love them. I know she's meant to help others. She was gifted a print of your Art of Surrender painting and asked me to send her a photo of the photo when she first got in. The meaning behind what she calls her "angel photo" has saved her this year. I can't give her much but we email almost every day!"
Keloni
"Hi Vanessa. I feel like I am supposed to share I found you. I found your ministry when because I prayed healing and deliverance for a woman that had been in the porn industry for 12 years. Most women in that industry were abused as children. When she became a Christian she left the industry but had tormenting demons for her past. She asked me to pray for her and on a phone call she received deliverance. She shared with me your ministry m. I was in the middle of ending a 27 year destructive marriage that almost cost me my life and had experienced significant healing and deliverance at a conference the Holy Spirit told me to go to. The conference was call Raised to Deliver. I showed my Mom the first painting I knew was for me. Our relationship at that time was in need of a lot of healing and she bought me your painting and I started seeing her differently. Like from the eyes of the Father and a survivor of abuse also. I had previously been angry because she didn't protect me growing up but now I understand. I now pray for a lot of people mostly women that endure childhood trauma and even survivors of SRA here and in Australia. I mentor and disciple them so they can go from needing deliverance to walking in dominion and the abundant life Jesus paid for us in the cross. I hope that all makes since but for some reason I felt this was the time to share and thank you for the positive impact you've had in me and many others."
Dawn
Follow on Instagram
@vanessahorabuena