PROPHETIC MEANING
Through His humility, came great strength. Through His suffering, came a healing that covered the mortal wound of mankind. He was made a sacrifice for our sins, yet because of His faithfulness and obedience He rose again. 


Can you see Him? The King who needs no counsel. The Holy One who rules in Heaven, seated on the throne of God. He came to this fallen world, to die for you and for me. His love is everlasting. His goodness etched into eternity. The glory of His crown, drenched in humility. The robe of His majesty laced with an everlasting love for His people. Who is like Him? Not one. The Glory of our Savior has been made known to the world…and we shall now prepare the way for His Glory to return in its fullness once for all time. 
PRODUCT DETAILS
Standard art prints are printed with 4 colors on 100 lb heavy stock photo paper. These prints are a beautiful and affordable option.
Fine art giclée paper prints are archival collector prints, created to stand the test of time. Printed with 12 pigmented inks, these additional colors add a greater depth and color accuracy to each piece. A subtle surface texture and beautiful sheen truly bring the art to life. There is a 1/4 inch white border around the edges of the print for ease of framing. Made to order right here at our Tempe, Arizona studio. Paper Type: Hahnemühle Photo Rag Batyta 315 gram paper.  
Giclée canvas prints are printed with the same 12 pigmented inks as our giclée paper prints and then stretched onto 1 1/2" gallery depth bars giving the piece a sleek, modern look when left unframed. Our wooden stretcher bars are locally sourced, and made with high-quality poplar wood. Made to order here in our Tempe, Arizona studio.
*Frames are not included with any print option.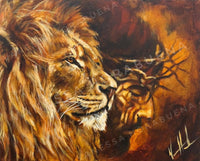 The Glory of Our Savior
- Standard Print / 8"x10"
$11.25